A big part of the value of going on an Outdoor Adventure Club trip is having a professional guide leading your trip. We've assembled a top notch crew of guides who dedicate themselves to being professionals. All guides for the Outdoor Adventure Club are Wilderness First Responders (an advanced first aid certification) and receive nationally recognized training in their guiding discipline. All OAC guides also attend seasonal staff trainings in the field.
In addition to being well trained, all OAC guides have great personalities and are a lot of fun to be with in the outdoors. They are patient instructors and will make you feel comfortable as you reach for your outdoor goals. Join us on a trip and you'll see the difference our training and experience makes!
---
Richard Bothwell, CFO (Chief Fun Officer), Program Director, Owner, and Guide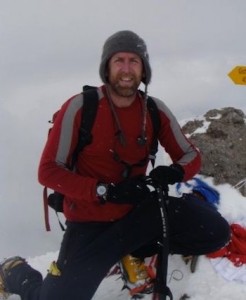 Since 1996, Richard has been the backwoods expert, head guide, and a pretty good backcountry cook, too. Richard has climbed, skied, snowboarded and guided OAC trips all over the world including 4 of the "7 Summits" (Kilimanjaro, Aconcagua, Denali, and Elbrus). He's climbed extensively in the Cordillera Blanca of Peru, and snowboarded down 24,000′ peaks in China. He's surfed (poorly) on four continents as well.
Richard is certified by the American Mountain Guides Association (AMGA) as a Single Pitch Instructor and holds a Wilderness First Responder certification as well as a AIARE Level III Avalanche certificate. He is a Level 1 and 2 Avalanche Instructor, has completed the AMGA Backcountry Ski Guide Course, PSI Instructor and is a volunteer ski instructor for Achieve Tahoe. He's also a certified sea kayak instructor through the American Canoe Association.
Richard can be reached at richard@OutdoorAdventureClub.com.
---
Mike Kiddy, Backpacking Guide
If you've been on a backpacking trip with the Outdoor Adventure Club, you've probably met Mike. He's been a great addition to the OAC team of professional guides. He is a Wilderness First Responder and Swiftwater Rescue Technician, has a Level 1 avalanche certificate, a wealth of natural history knowledge, and he's a patient teacher and leader. He's also earned a degree from SFSU in Recreation, Parks & Tourism Administration.
He's a hiking, backpacking, and river guide…an all around outdoor leader! We're proud to have Mike on the staff.
---
Mike Boyd, Backpacking Guide
Mike was born and raised in Orange County, California, where he grew up exploring the outdoors hiking, mountain biking, rock climbing, skate boarding and surfing. He has worked as a wilderness guide for a variety of outdoor companies in Oregon, Utah and California leading backpacking trips and a variety of wilderness activities. Next to backpacking, Mike's 2nd favorite outdoor activity is surfing and has surfed up and down the California coast and down into Baja.
Mike holds a AAS degree in Wilderness Leadership and Experiential Education and a BS in Recreation Administration with a focus in Parks and Natural Resources Management. He is certified as a Wilderness First Responder/CPR and certified sea kayak instructor through the American Canoe Association.
When not backpacking or surfing, you'll likely find Mike hiking and swimming with his favorite adventure buddy, his Boykin Spaniel, Coda.
---
Heather Sexton-Landeros, Hiking and Rock Climbing Guide
Heather spent several years in Japan running an outdoor climbing program. She couldn't stay away from home for too long, so fortunately made her way back to the Bay Area. She is a Wilderness First Responder and been trained by the Professional Climbing Instructors Association, as well as the American Mountain Guides Association, through their Single Pitch Instructor course. She also know just about every trail hiking trail the Bay Area.
You'll see Heather on our hiking trips and the occasional rock climbing trip. She's an all-around outdoor leader with a great backcountry Pad Thai recipe!
---
Jenna Pacelli, Hiking Guide
Jenna has traveled to India and Nepal to study yoga and has also worked extensively in Wilderness Therapy with troubled youth and young adults hiking through the deserts of Utah and Nevada. Her passions include yoga, food, nature, traveling and especially guiding OAC hikes!
Jenna is Wilderness First Responder, CPR and AED certified. She also writes a blog about health, wellness, yoga and spirituality: Peaceful Vitality
---
Beth Becker, Hiking Guide
Beth has been leading hiking, backpacking and canoeing trips since college. She spent two years working with kids and teaching about outdoor education, wilderness skills, and guiding/teaching kids multisport activities (rock climbing, mountain biking, stand up paddle boarding, hiking, outdoor education, kayaking).
Beth has a BS in Outdoor Recreation Leadership and Management from Southern Illinois University in Carbondale, and spent a semester as a NOLS Outdoor Educator in the Rockies. She holds certifications as a Wilderness First Responder, in CPR/First Aid, Canoeing Level 1 Skills Assessment by the ACA, and a Leave No Trace Master Educator. She also spins a mean hula hoop!
---
Jennifer Couch, Reservations and Office Manager
Jennifer works in the office for the OAC. She handles almost anything that has to do with reservations, guest communications, accounts receivable and works on keeping the website up to date.
Jennifer went on our Patagonia Rafting trip in 1998 as a guest, and has been involved with the OAC ever since. She loved it so much she even married the owner! In her spare time, Jennifer enjoys snowboarding, rock climbing, and mountain biking and can be found on the occasional OAC rafting trip.
You can reach Jennifer at jennifer@OutdoorAdventureClub.com.
---