Tahoe Winter Ski and Snowboard House, 2015-16 Season
Spend a weekend (or weekday) in our winter Ski/Snowboard House and ski and ride the best resorts in California.
Weekend accommodations in North Lake Tahoe. Meals included. Great fun with OAC ski and snowboard friends.
Enjoy a weekend of skiing and snowboarding and leave the cooking and cleaning to us! We'll take care of everything, including bringing together a great group of people to ski and snowboard with. Pick a weekend, or get a season pass for the house…it's better than a ski lease!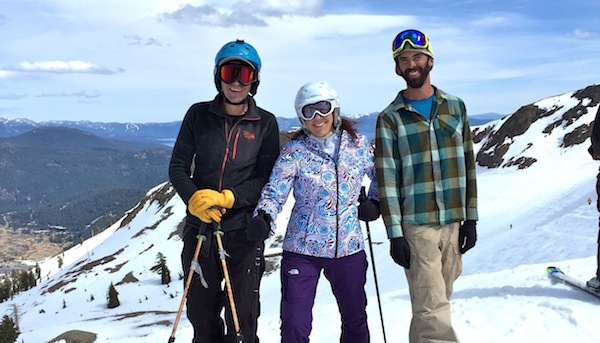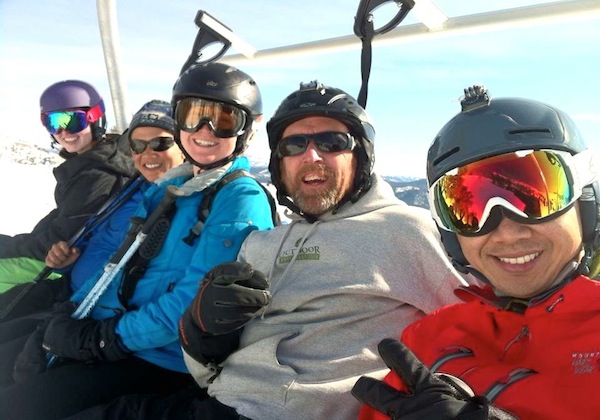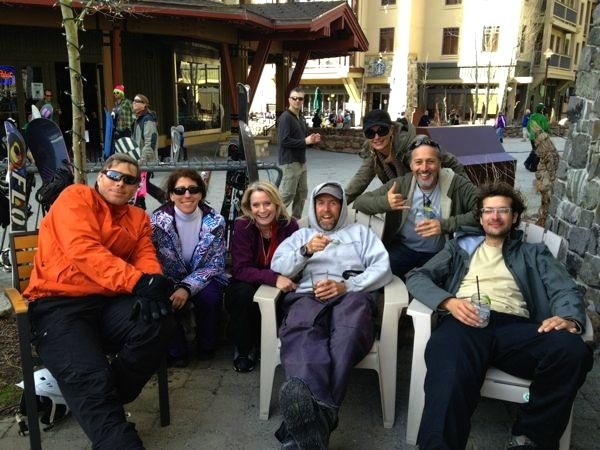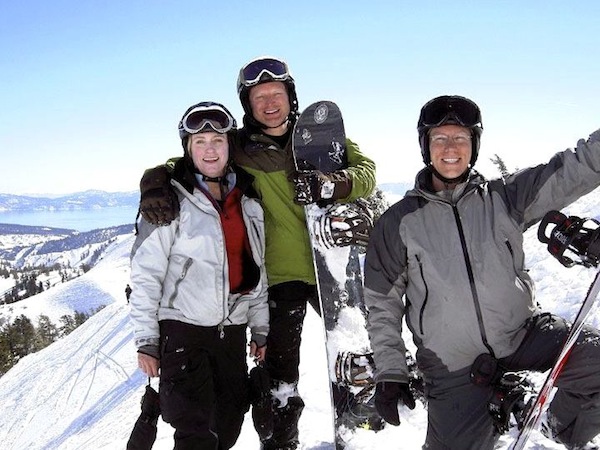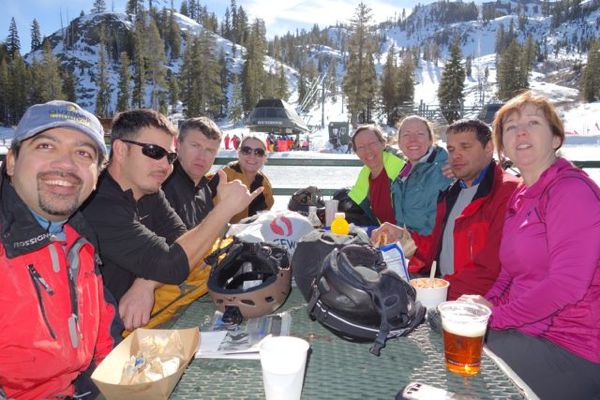 A weekend in the Outdoor Adventure Club Tahoe Ski House includes:
Two nights lodging (Friday & Saturday nights, shared rooms)
Meals (big hot breakfast on Saturday and Sunday, and a big dinner on Saturday evening)
Apres ski and evening entertainment on Saturday (fireplace socializing, cards, games)
Access to the Community rec. center hot tub, pool and workout room for $8
Carpool lists so you don't have to drive up alone
Fun people to ski and snowboard with
The Outdoor Adventure Club ski house is available every weekend (and mid-week too!)  this ski season starting on December 30th through April 30th.
We have a four bedroom ski house in Tahoe Donner, near Truckee. Our location puts us a short drive to all the best ski and snowboard resorts. Nearby are Squaw Valley, Northstar, Sugar Bowl and Alpine Meadows. For cross country skiers we are close to Royal Gorge, and Tahoe Donner XC is in the neighborhood. There are many "locals" backcountry trails right in the neighborhood for those who want to go for a snowshoe hike or ungroomed XC ski experience, too.
What is  a typical Weekend at the Ski House?
Come up Friday night, meet the folks in the cabin and plan your day on the slopes. On Saturday and Sunday, you can ski or snowboard wherever you want!
Wake to a home-cooked hot breakfast on Saturday morning, then head out to the slopes. The group generally likes to carpool from the cabin to the resort, ski/board together, and meet for lunch. A range of ski levels is typical at the cabin, from beginners to advanced, and a mix of boarders and skiers makes it easy to find a partner to ski or snowboard with.
After a day on the slopes, the group usually shares stories over an apres ski drink at the resort, then heads back to the cabin for appetizers, dinner and a fun night playing games and trading stories of the day or perhaps a visit to the recreation center hot tub. Our cabin host will cook up a great dinner on Saturday for everyone. A typical dinner could be soup or salad, an entree like homemade lasagna, or chicken or eggplant parmesan and of course a great dessert! After dinner, the group usually socializes, plays games, and gets ready for another day on the slopes.
On Sunday, after a breakfast, most people spend a second day skiing or snowboarding. Others will go for a snowshoe hike or relax at the cabin, while some may head home.
What about non-skiers/boarders?
You are welcome to come up and join the weekend, too! If you don't ski or snowboard, and want to go snow shoeing, ice skating, or just hang out in Tahoe, we can point you in the right direction! We have several sets of snowshoes available at the cabin for you to use, while you're staying in the ski house.
More About the Outdoor Adventure Club Ski House…
We have a great four bedroom house. The bedrooms are shared with a combination of bed sizes. On most weekends, we usually have about 8-10 people in the house. We keep the rooms same sex (unless you specify otherwise). We assign bed space based on a variety of things: when you sign up and the overall makeup of the group (how many men, women and couples there are). All linens including fresh towels, pillows and bedding are supplied.
How do the carpools work?
The Outdoor Adventure Club sends out a carpool list to participants the week of the trip. The Outdoor Adventure Club does NOT provide transportation- you are responsible for getting yourself to Tahoe. In past years, it has been easy to get a ride if you don't have a car, as long as you start working on it as soon as the carpool list goes out. Some times people who don't have adequate transportation get together and share renting an SUV for the weekend. All-wheel drive or 4-wheel drive vehicles are recommended for any trip to the Tahoe area in the winter. Front wheel drive with chains can also work.
Get a Season Pass to the Tahoe House…
We also offer Season Pass Options for the hosted cabin, including a full weekend season pass, weekend 5-packs and mid-week passes. Note there is a limited number available. For more information and to purchase a season pass for the 15/16 season, visit OAC Tahoe Ski and Snowboard House Season Passes and 5-Packs.
In addition to our regular weekends, we offer special weekend prices and packages for holidays: New Years celebration and cabin opening party, and MLK weekend and President's 3-day weekends.
Mid-Week Availability: The cabin is also available mid-week if reserved in advance. Add a day to a weekend or beat the crowds and come up for a night during the week. During the week, meals are not provided. You must provide your own meals, and clean up after yourself. Note: Standard mid-week pricing is not available the Sunday of MLK weekend and the Sunday of President's weekend and special packages/pricing applies to the New Years Cabin opening party (12/30-1/1). To reserve a mid week stay, visit Weekdays at the OAC Ski and Snowboard House.
Note that we also offer private/group snowboarding lessons and professionally guided backcountry ski/snowboard trips. If you have any questions, please send us an email to info@OutdoorAdventureClub.com or give us a call at 415-377-1195.
Get full details and sign up for a trip here (Look for more trips and to come.)
2016-2017 Ski Season Rates and Availability to Come
The Outdoor Adventure Club also offers hiking, backpacking, rock climbing, hiking and camping, kayaking, mountain biking, whitewater rafting, backcountry skiing/boarding, avalanche courses, snowshoeing, international adventure travel trips and other adventures. Go to our full Event Calendar!